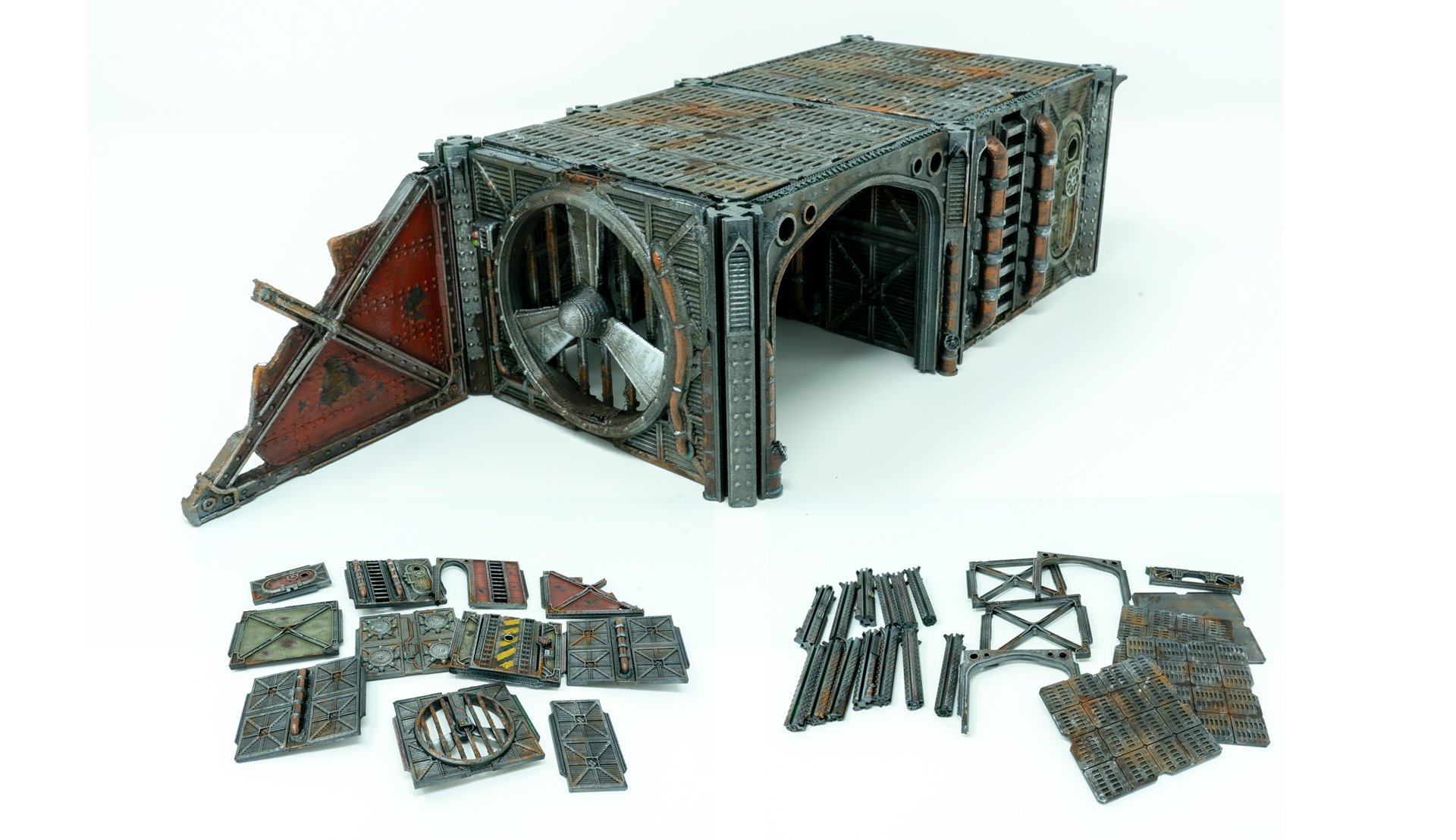 WarLayer 4.0 Late Pledge Bundle
This is the late pledge page for our latest successful kickstarter. WarLayer models are optimized and rigorously tested for desktop 3D printing. Desktop 3D printers print at twice the resolution in the vertical axis so we design the models to be printed upright without support material. This means cleaner details, no messy support removal and they take up less space so more can be printed at once (the average 3D printing nozzle is .4mm while the average printer Z-axis resolution is .1mm to .2mm).  
The Models - 
A few painted examples below. These were printed on a low cost desktop FDM printer and then painted by a base coat of primer followed by airbrushing. We have designed over 200 individual files that will be released when the Kickstarter ends.  
Modular AF -
This new system is truly modular. Our custom designed grid based construction slots allow for any combination of walls and corners to be used together without unseemly tabs or clips. The prints can be reused in several ways meaning less time printing and more time playing. The portability and modularity make WarLayer great for games like Necromunda, Kill Team, Space Hulk, Warhammer 40k, Fallout Wasteland, Star Wars Legion, Doom, Dungeons and Dragons, Pathfinder, and any other games that require a quick grid of terrain to make the battlefield cinematic.  
Sci-Fi and For the First Time Fantasy -
This system continues to build upon the futuristic war torn realms of previous campaigns but for the first time ever, we are trying something a little medieval. These new models allow you to build any type of castle, town or dungeon filled with peril.
Happy Backers -
We are extremely fortunate to have over a thousand backers and customers. They have joined us on this journey and have been an incredible source of inspiration. Seeing their completed prints and tables are the reason we keep doing what we do. Here is a link to our printing and painting group where you can see some amazing work. Here is a small sample:
ASome great paint jobs including images from https://www.instagram.com/p/B0j6RRnHYeD/
WarLayer is the passion project of 3D Printing designer Andrew Askedall. A veteran of the 3D printing industry and a huge fan of tabletop gaming, Andrew also publishes some of the most widely downloaded free 3D models available today. Additional sculpting provided by the incredibly gifted Mr. Dustan Ross. Model painting and photography was done by the insanely talented Jason Krieger of Brookhammer. He has some amazing painting tutorials so please follow him and subscribe!